Department of Soil Science and Agricultural Chemistry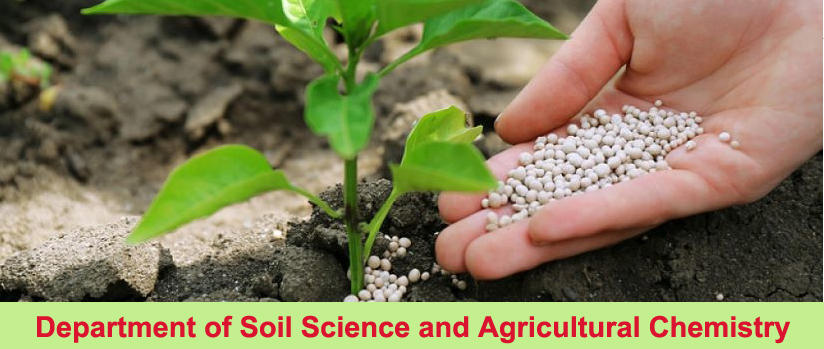 Soil science is the science dealing with soils as a natural resource on the surface of the Earth including soil formation, classification, and mapping; physical, chemical, biological, and fertility properties of soils; and these properties in relation to the use and management of the soils.
    Soil Science plays an important role in the life of a human being. It is not only the resource for food production, but it also helps us on waste disposal, to maintain playgrounds, to distribute and store water and nutrients, and support our environment.
    Scope of Soil Science: Soil Science has well defined and developed discipline. The science dealing with soil as a natural resource on the surface of the earth, including pedology and the physical, chemical and biological and fertility properties of soil.
    Students of soil science learn to identify, interpret, and manage soils for agriculture, forestry, rangeland, ecosystems, urban uses, and mining and reclamation in an environmentally responsible way.
Career Opportunities: Although there are limited job options to these graduates in India, there are more number of opportunities abroad for jobs.
    These graduates can get jobs in public and private organizations, environment consultancies, research establishments, commercial and industrial enterprises, higher education institutes and many more.
What are the job roles?
Soil Scientist
Professor
Soil Pedologist
Ecologist
Environmental Scientist